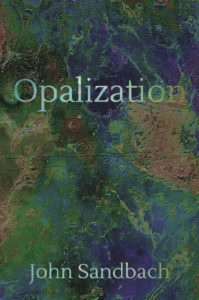 [Opalization description]
The 73 poems of John Sandbach's book "Surface Paint" are stylistically varied, though they all bear in common a sense of the wondrous and fantastic. In this book you will find both lyric and narrative poems, as well as portraits and insights into some of Sandbach's favorite authors such as Alain Robbe-Grillet, Barbara Guest, and Gertrude Stein. You will find surrealism everywhere, and poems as well that have been inspired by the Language Poetry movement.
"Portraits of Clouds" is John Sandbach's first book of haiku since the publication of "Invisible Castle: The Collected Haiku of John Sandbach". Though grounded with great love and affection for both the haiku traditions of Japan and the West, John Sandbach's haiku represent a clear break and, hopefully, a new, influential, and open beginning in English-language haiku composition that welcomes and values all methodologies, aesthetics and topics, seeing infinite possibilities and equality in every path.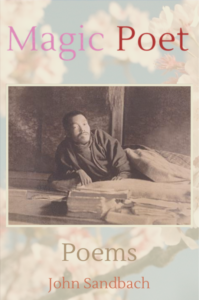 These haiku do not adhere to the rules of classical haiku. They are not all seventeen syllables long, and they don't all use a word to denote the season. They are in the style of many modern Japanese freeform haiku. So what rules do I follow when I write haiku?
There are four: […]
The Circular Temple Oracles
The 720 poems in this volume have been gathered from John Sandbach's monumental text "The Circular Temple", a two volume study of the 360 degrees of the zodiac. "The Oracles of the Circular Temple" are divided into two sections: "The Omega Oracles" and "The Azoth Oracles", each containing 360 numbered poems. For those readers who wishes to further pursue the mysteries and subtleties of this text, there are many significant connections between any two poems […]
"Of course all oracles are numbered. But the numbers of these oracles, rather than being readily evident, have been hidden. The reader may guess them, or sense them, but should know that their numbers may be many, greater, in fact, than the numbers of oracles themselves."In this way numbers have proliferated, as they so often do, for in all numbers are seeds of other numbers, which may be known if one makes a garden for them, and feeds them the proper soils and weather." – John Sandbach